At Keywebco we use GIF images most often on Pinterest however a better longer video can be done. 
Below you will find information that will tell you had to add video to Pinterest   
A Pinterest video is one of the best new instruments for discovering yet even more inspiring ideas. Moving with time, Pinterest is actively adding new features for video content and its distribution on the platform.
You will need a Pinterest business account, so make sure you've converted as regular user accounts will not have this option. In addition,  only advertisers with a valid billing profile can upload a video on ads on Pinterest. While you don't have to promote it, having an account set up for promotions is how you get access to the video option.
Pinterest File types:
MP4 or MOV
Aspect ratio: Square (1:1); Vertical (9:16)
Resolution: Min 240p
Frame rate: Minimum 25fps
The types of videos that do well on Pinterest:
Food videos, the short style of clip that gives users a glimpse of how easy the recipe is to make. Another good video is to show the food presentation.
Craft or DIY videos that showcase how the project is done with creativity. Content should inspire your audience to take action by learning more or doing a project themselves. 
You need to publish your video on YouTube/Vimeo or find a video you want to share on YouTube, Vimeo or Ted. On YouTube and Vimeo, look for the "Share" button and find the Pinterest icon.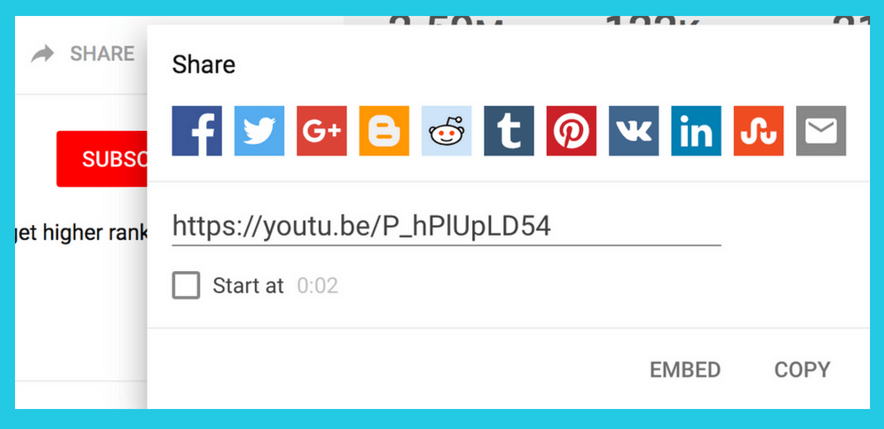 Or else, just copy/paste the URL of the video, then use the "save from site" button in your mobile app or desktop Pinterest interface, choose a cover and pin it!
This method works both for the desktop and mobile versions.
Another way to do it is by using the Pinterest Save Button extension. Add it to your browser (i.e. Google Chrome) and you will be able to pin videos from any places on the web, just clicking on the icon of the extension.
Pay attention to the description of the video. It should contain at least 2-3 related keywords. 
You can always put a custom link to any videos you publish on Pinterest. Sometimes when you share a video of an influencer, it's not clear what the point of changing the link is.
However, if you have a related article on your blog, I think it's a good idea to provide people with more information on the topic. And a video shared on Pinterest does exactly that.
Do you use any YouTube/Vimeo videos in your articles? I have a great strategy for you. Just share the videos on your Pinterest and put a link to your blog post afterward.

Pinterest offers a bunch of great advertising opportunities for your videos. Promoted Videos are popular with Pinners and give advertisers more ways to find the right audience for every piece of content. Sometimes, spending 10-50 dollars can bring you new followers, traffic, and customers.
It can be a good idea to create boards with video series of how-to or showcase videos but don't forget to put the right keywords into the description.
Exact Steps To Add Video:

Step 1:
Click on the '+' sign in the upper left of the screen to "upload a video".

Step 2:
The next screen will pop up for you to upload your video and they've given all the right specs needed to the right of the upload box. Upload a square version of the video. (1:1) Note that it could take a while for the video to upload.

Step 3:
Capture the thumbnail shots you want while it's uploading or choose a custom thumbnail.

Choose from the thumbnail options below the video.

Step 4:
Add your description and website URL.

Step 5:
Pick a board for your video.

Step 6:
Wait for it to upload. It will say it's creating your promoted video, however, your video is not a promoted pin.

Step 7:
Share the video with your people! Grab the pin link and share on other social channels, blog, app, websites or an email list.


How to download Pinterest video on iPhone, save the Pinterest video on iPhone
How to Add a Video to a Pinterest Board